Hello everyone, Sunberry here. I've decided to make progress reports every Sunday leading up to the deadline of NaNoReNo 2018. It's fast approaching and I'm actually freaking out! Ahhh!
A little bit about me: I'm an animation and game design student in university, a huuuuge nerd, and for fun I draw fanart and write fanfics. This is one of my first official game projects. My love for games and passion to create keeps me going, so suddenly telling myself, "Hey, you're going to join a game jam this year, no takebacks!!" is super scary and exciting!
Before I get into the interesting details of the game, a little professional Q&A is needed. Nothing heavy; it's a habit I simply have to get used to! :)
____________________
PLAYTESTING Q&A v1
List your associated role for this week:
Sunberry: Initial ideas + story design
What tasks have been completed for this week? What tasks were incomplete and the reason for incompletion?
COMPLETE: For the first week of NaNoReNo, Sunberry was able to come up with a potential game pitch for the final product. Though not professionally documented, she has brainstormed and played around with many ideas, jotting them down visually and digitally. Sunberry has also begun with the rough script for the game, outlining potential scenes. A starting design and character profile for the protagonist has been compiled, as well as the names and personalities of the game's side characters.
INCOMPLETE: This week's schedule details the start of background art, completing the story in its entirety and programming the backbone for the final game file on Visual Novel Maker. However, due to her return to full-time university classes, Sunberry was unable to complete these tasks.
What playtesting has occurred as part of the process? What are the outcomes of playtesting?
Not much playtesting has been done yet, but the protagonist's first design has been digitized. Sunberry has also created the game file on Visual Novel Maker using default assets.
How do these outcomes impact the schedule for game development?
The schedule has indeed been compromised, but Sunberry is working as much as possible on her solo project while balancing her daily activities. Much time is needed to complete the story script in a few days so that it can be plugged into Visual Novel Maker. Once the story has been completed, the UI and art designs will be her top priority.
What (if any) has been changed about the game design and development concept/pitch?
Sunberry was initially going to design CG art for the first demo, but due to time constraints she will be abandoning this area of the game to focus on completing a playable story and choice-driven gameplay. The chapters have not yet been fully decided.
What will be your task/s for next week and the resources you will use for playtesting?
Next week, Sunberry intends to finish the story script, begin UI design and fleshing out her characters.
Software used: Microsoft Word, Clip Studio Paint, Adobe Photoshop and Visual Novel Maker.
General comments on project progress:
With 20 days left, there is not much time to be ambitious. Sunberry is persevering to complete the most important aspects in accordance to her pitch.
____________________
My work ethic is pretty flimsy, and I've changed my mind plenty of times over the week about making a fully functioning game for this jam to a demo that I can work on improving in future months. I've always been a "pitch now, clean it up later" person, so I can be pretty ambitious at the start, only to dwindle everything down to this *tiny* tidbit of an update before a deadline...
Gwaah. I seriously hope to change that.
Nevertheless, this March is still a huge step forward. I've gotten my hands dirty and it's only fair to cover up the seed I've planted with soil, water it and watch it grow!
____________________
GAME/CHARACTER DESIGN PROGRESS
Luck and Key is a fantasy/adventure visual novel set in the fictional territory of Parzden. You play as Ridge Luchesse, the son of the Most Illustrious Highness of Parzden and imminent heir for the title of Marquess . I imagine him to be a loner and a reserved individual, so for a noble, he's not very heroic. Yet. Through the challenges he will be thrown into throughout the story, there is plenty of room for him to grow. But whichever path he takes to discover his own potential is up to you!

So far, I'm undecided with my chapters, and my outline has yet to be done. There's a whole lot of lore in the background that I'm still mulling over, but I'm working studiously to make it worth checking out once I've released my game demo. I also have three side characters whose profiles I've yet to create, and you'll meet them very soon. I intend for these characters to offer vital support to the protagonist, but they each have their own perks and personalities!
I couldn't help starting a character design page on my sketchbook, so here's a scan of my hair design progress. It's so messy XD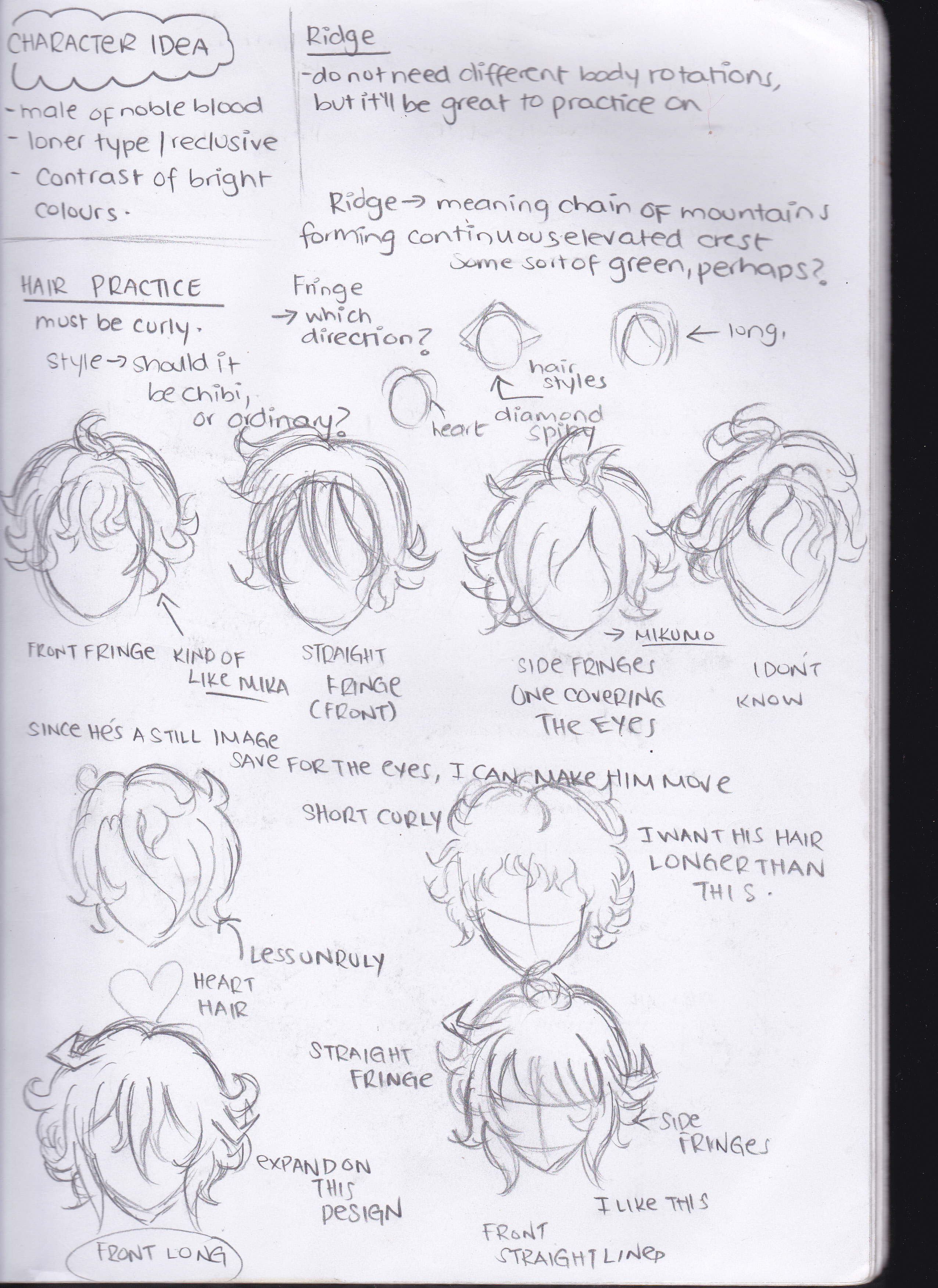 I needed a colour scheme idea, so I went ahead and made a digitized head too. Woo!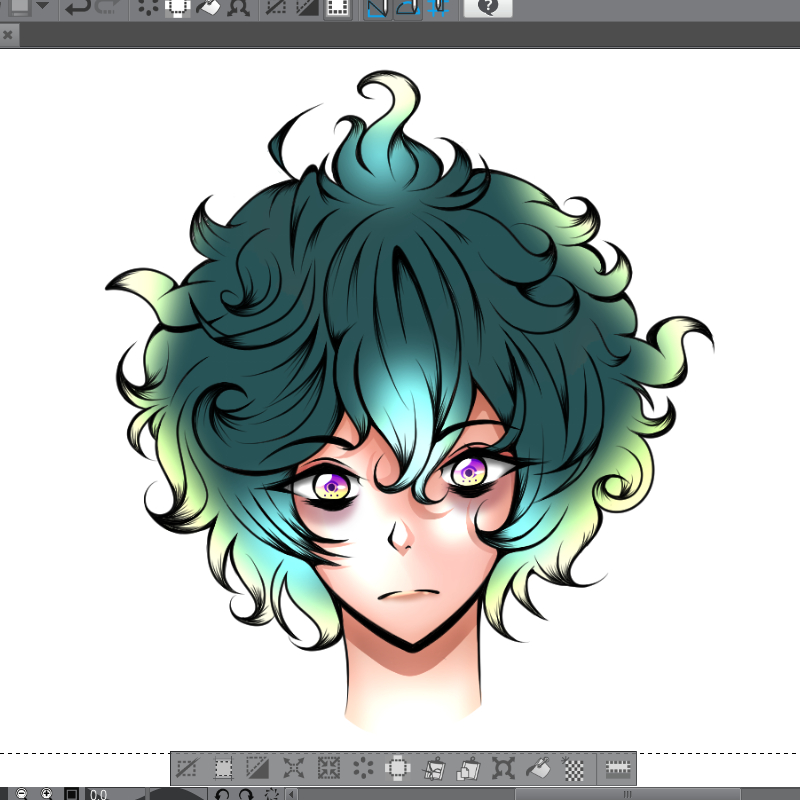 Next week, I want to sink my teeth into Visual Novel Maker and begin UI practice. Even if it's just a tiny demo, I really do want to put something forward for NaNoReNo 2018! I can't wait to keep growing as a game designer!